Handara Golf & Resort Bali Announced as Winner in Indonesia's Best Golf Hotel 2019 by World Golf Awards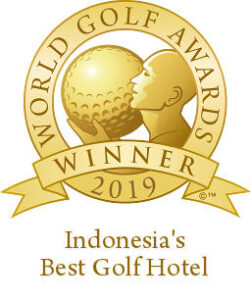 Bali, November 2019 - Handara Golf & Resort Bali is once again announced as the Winner in the Best Golf Hotel in Indonesia Category in 2019 by World Golf Awards.
World Golf Awards™ serves to celebrate and reward excellence in golf tourism, world-class courses and golf destinations. Golf tourism constitutes a vital segment in the global travel and tourism marketplace. The overwhelming success the awards have enjoyed in the past 6 years has created much discussion in the world of golf tourism and this event is expected to grow year upon year.
With environmental sustainability at the heart of the Handara vision, we are dedicated to preserving our beautiful environment, conserving energy and supporting the local community, while providing a healthy and pleasant experience for our guests.
For more information please visit www.handaragolfresort.com
EDITOR'S NOTE
HANDARA GOLF & RESORT BALI is an award winning Golf club and resort in Bali that is ranked among the "Top 50 Golf Courses in The World" by Golf Magazine. It has also been chosen as the "Best Golf Hotel in Indonesia" by the prestigious Word Golf Awards, 2019. As one of the best Golf Clubs in the country, it has seen many distinguished patrons and has long been recognized as one of Asia's most iconic courses. Complementing the great course and stunning scenery is comfortable accommodation, good dining options and some of the finest hospitality in Asia.
Located away from Bali's hustle and bustle up in the mountains of Bedugul, Handara Golf & Resort is 1,400m above sea level so delivers a beautiful cool weather experience. The deep blue sky and the fresh air makes for the most comfortable golfing experience in Bali and a perfect getaway to escape the heat!
The 18 hole Golf course is one of the most interesting and beautiful in Asia.